In stark comparison to the Star Wars Lightsaber Haslab project that has only reached 1,300 out of a needed 5k backers, the newly announced GI Joe Classified Haslab H.I.S.S. has not only completed it's goal of 8,000 backers inside the first day, but it is currently sitting at 9,473 backers, bringing it within 500 of reaching the first stretch goal.
Head over to HasbroPulse now to back the H.I.S.S. for $299.99
Cobra partners with HasLab for world domination
As a result, M.A.R.S. Industries has subcontracted HasLab, who were unwitting accomplices in our Cobra Hack of the G.I. Joe Skystriker campaign, to crowdfund the production and distribution of the first-ever G.I Joe Classified Series Cobra H.I.S.S. (High Speed Sentry) vehicle in 6-inch scale. They will carry the water to realize my genius. They need to reach 8,000 backers to officially fund the project. This HasLab campaign begins June 29th and ends in 47 days just before midnight on August 15th. If funded, they anticipate final delivery in Fall of 2023.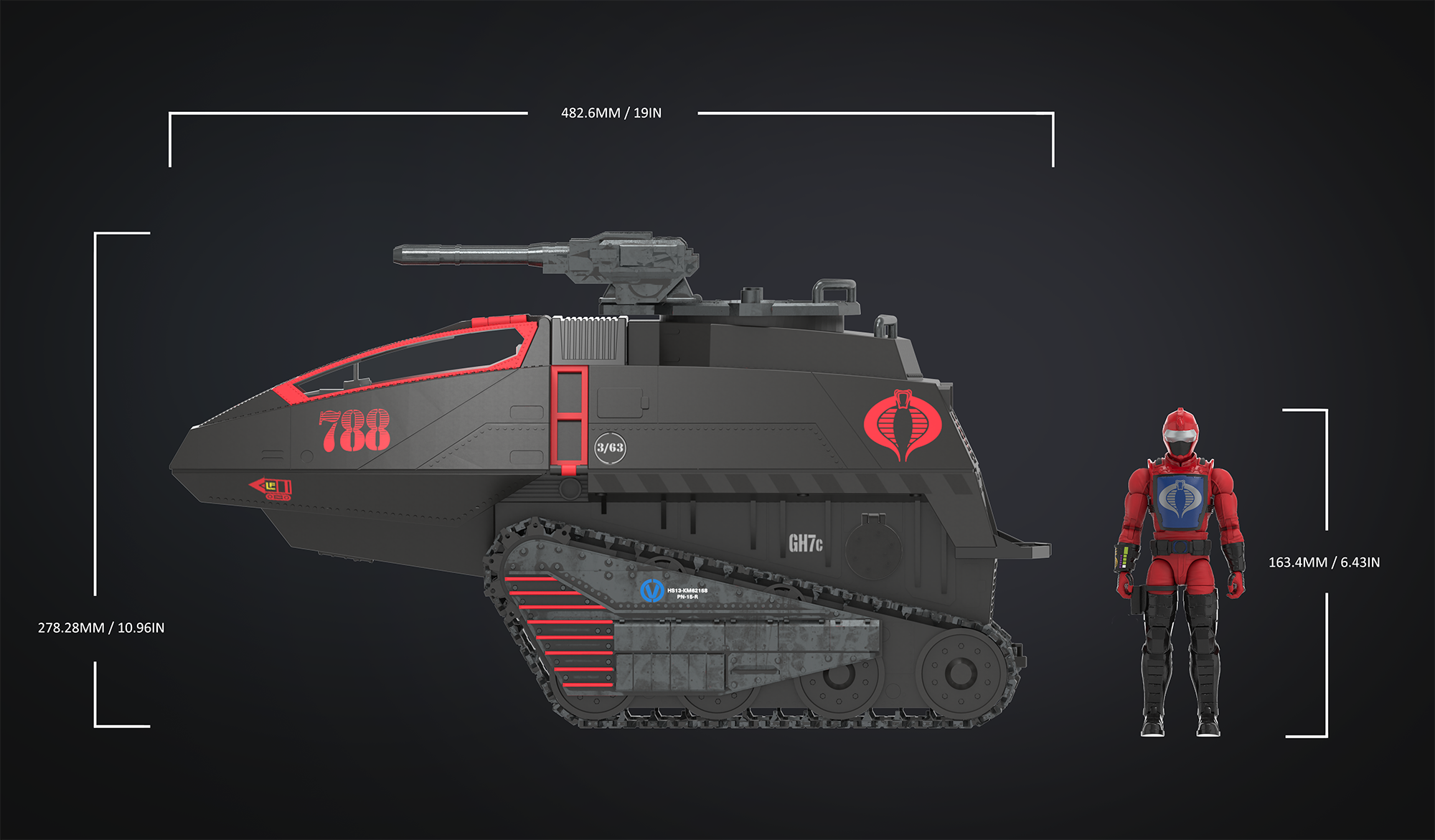 First time in 6-inch scale
Never before has an undertaking such as this occurred – our project is the first 6-inch scale G.I. Joe Classified Series Cobra H.I.S.S. vehicle for which everyone has been clamoring. A mere $299.99 grants backers the base offering of my technological wonder, the H.I.S.S., as well as a highly-articulated Cobra H.I.S.S. Driver Action Figure with premium deco, detailing, and articulation for poseability. The vehicle itself contains an astounding level of detail and features allowing for myriad posing and display options.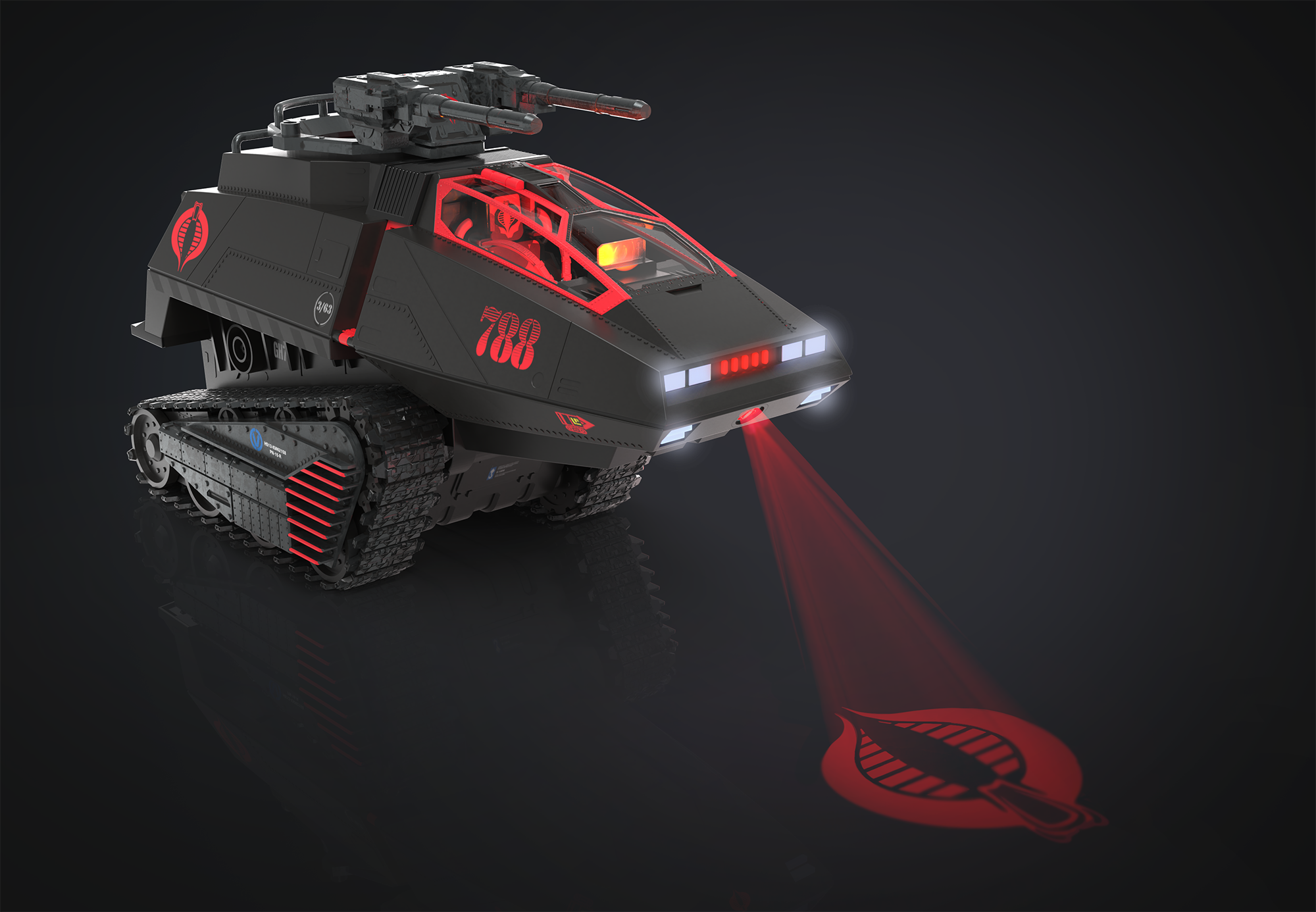 Multiple lighting combinations with Cobra Insignia Beacon
The H.I.S.S. vehicle contains battery-powered interior and exterior LED lighting features. At the push of a single button, you can turn on the H.I.S.S.-vision lights, the interior cockpit heads-up display, headlights, fog lights, rear Cobra convoy lights, and, most impressively, the Cobra Insignia Beacon. This unique invention of M.A.R.S. Industries projects the Cobra logo on the ground ahead of the vehicle.
I've teamed with Dr. Mindbender to enhance this projection with his special combination of "illuminator intimidator" rays that will surely send the Joes cowering in fear should they cross the path of the beams. A secondary red LED light illuminates the rear cargo space to preserve any troopers' night vision when the door is lowered, and they deploy.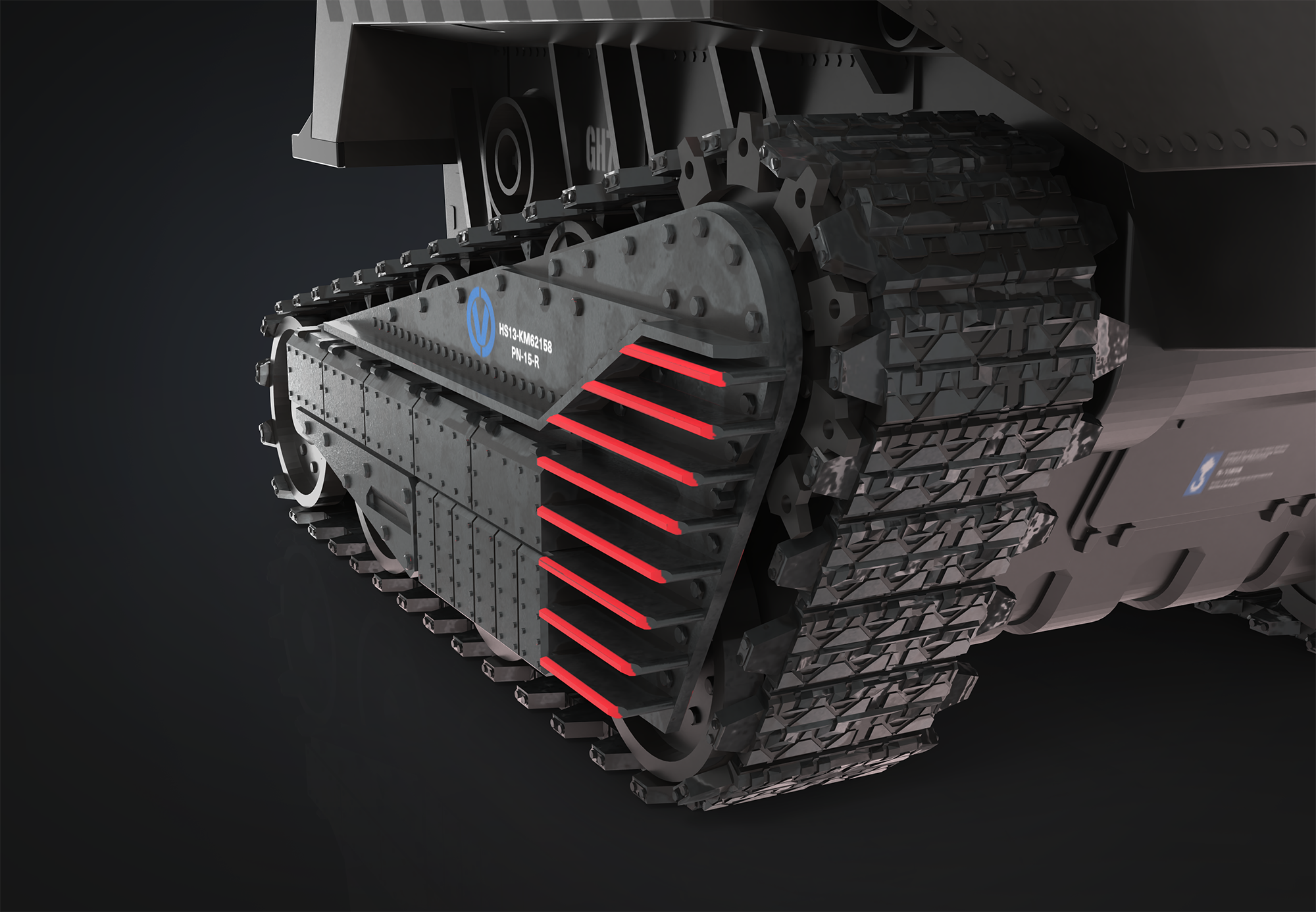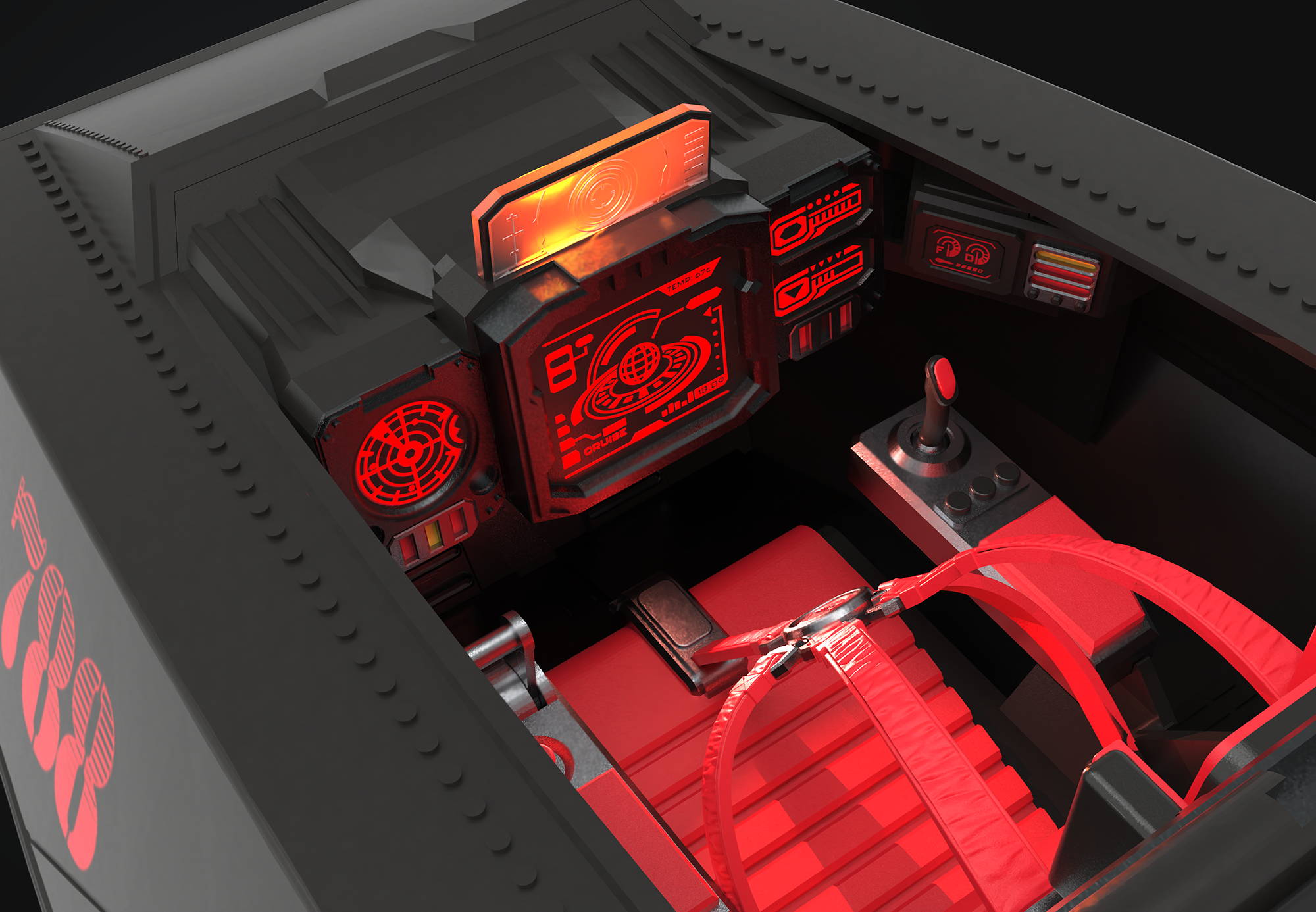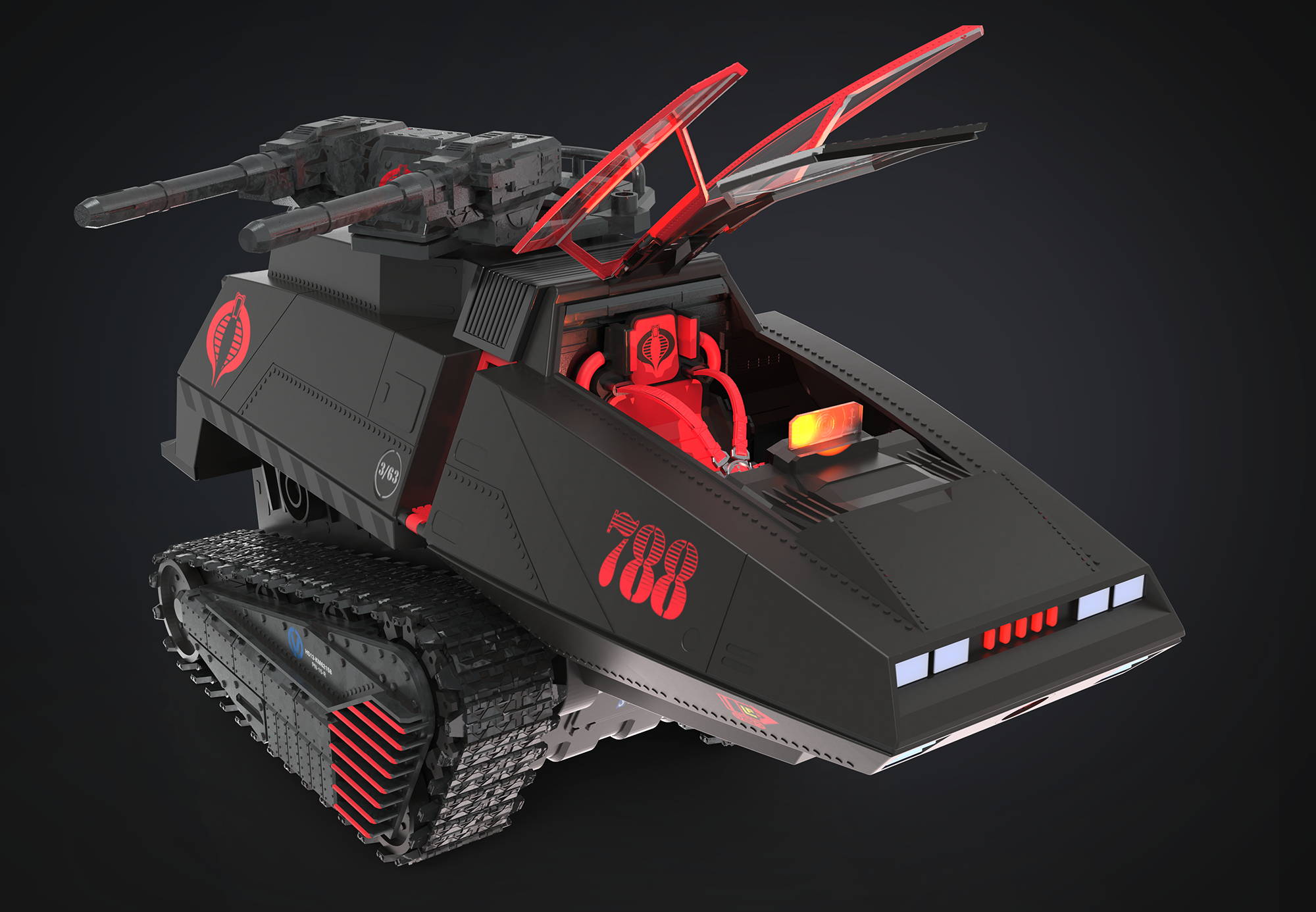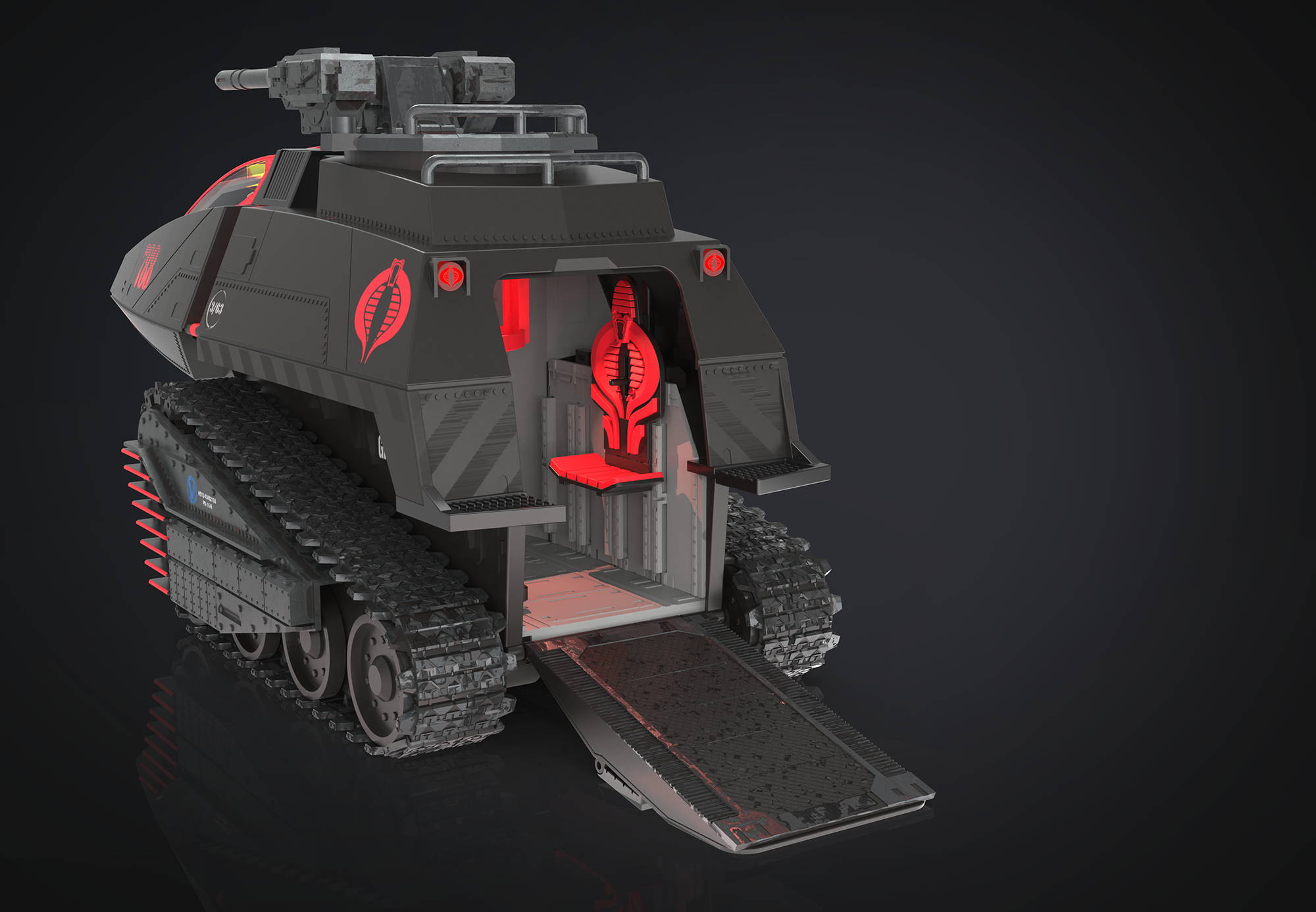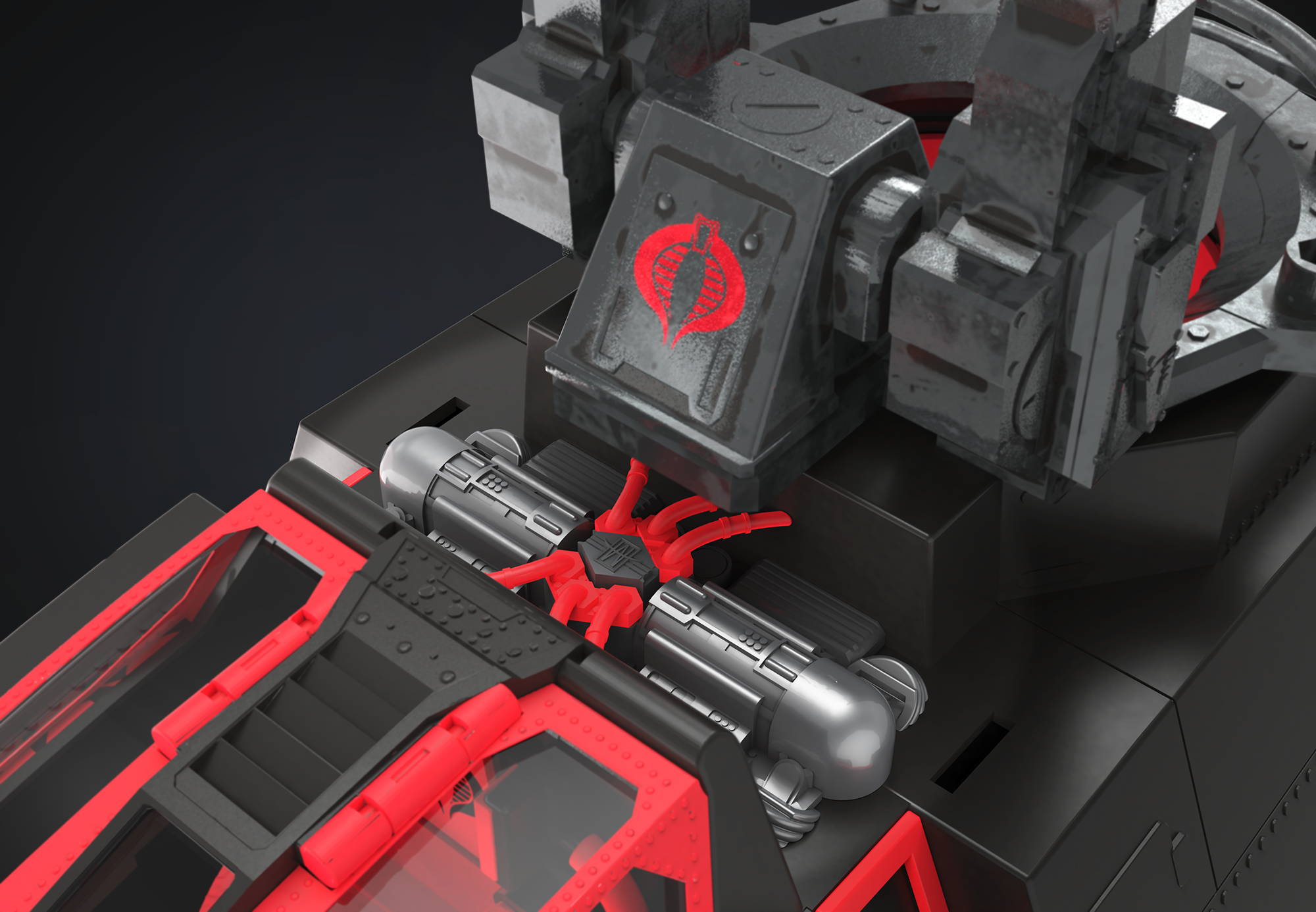 M.A.R.S. Industries Feature Innovations
Only my technological brilliance could possibly have engineered the state-of-the-art weapon accessories and design achievements offered by the G.I. Joe Classified Series Cobra H.I.S.S. vehicle. It's a modern update of the original classic Cobra armored terror. I have instructed the HasLab Marketing team to draft a comprehensive list of features that is readily digestible by even the most provincial layman:
Functioning wheels with moving treads: Rotating sprockets and wheels spin as the treads roll forward or backward.
Elaborately-detailed command cockpit interior: The Cobra H.I.S.S. Driver Action Figure sits buckled with a 5-point harness adorned with Cobra logo before an illuminated control panel. You can pose the figure operating the articulated joystick and throttle controls while targeting Joe combatants.
"Gull-wing" Canopy: The vehicle comes with features "gull wing" functioning doors with independent right and left sides that lift from center hinges allowing the Driver to enter from either side of the H.I.S.S.
Rear Cargo Bay: The rear personnel platform provides standing room for additional troops who can be posed holding the functional handrails. Below that is a retractable tow hitch on the rear of the vehicle. The center of the personnel platform flips up allowing the rear cargo door to drop. That reveals an illuminated troop transport cargo space. Inside is a jump seat and a weapon accessory storage rack.
Articulated turret with poseable cannon accessories: The 360-degree rotating turret includes control details and fits an additional G.I. Joe Classified Series Action Figure (sold separately). The Double "Diablo" Cannon accessories can swivel and elevate independently from one another.
Removable engine cover detail: Behind the cockpit sits the M.A.R.S.-developed HISS-CS22 propulsion unit detail beneath a removable cover. It connects to side exhaust port details.
Removable armor plating skirt: The Cobra H.I.S.S. comes with a removable armor plating skirt detail with reactive armor to provide extra protection for the road wheels
Extendable cockpit boarding ladders: Flip-down boarding ladders descend from each side of the H.I.S.S. granting the Driver easier access to the cockpit.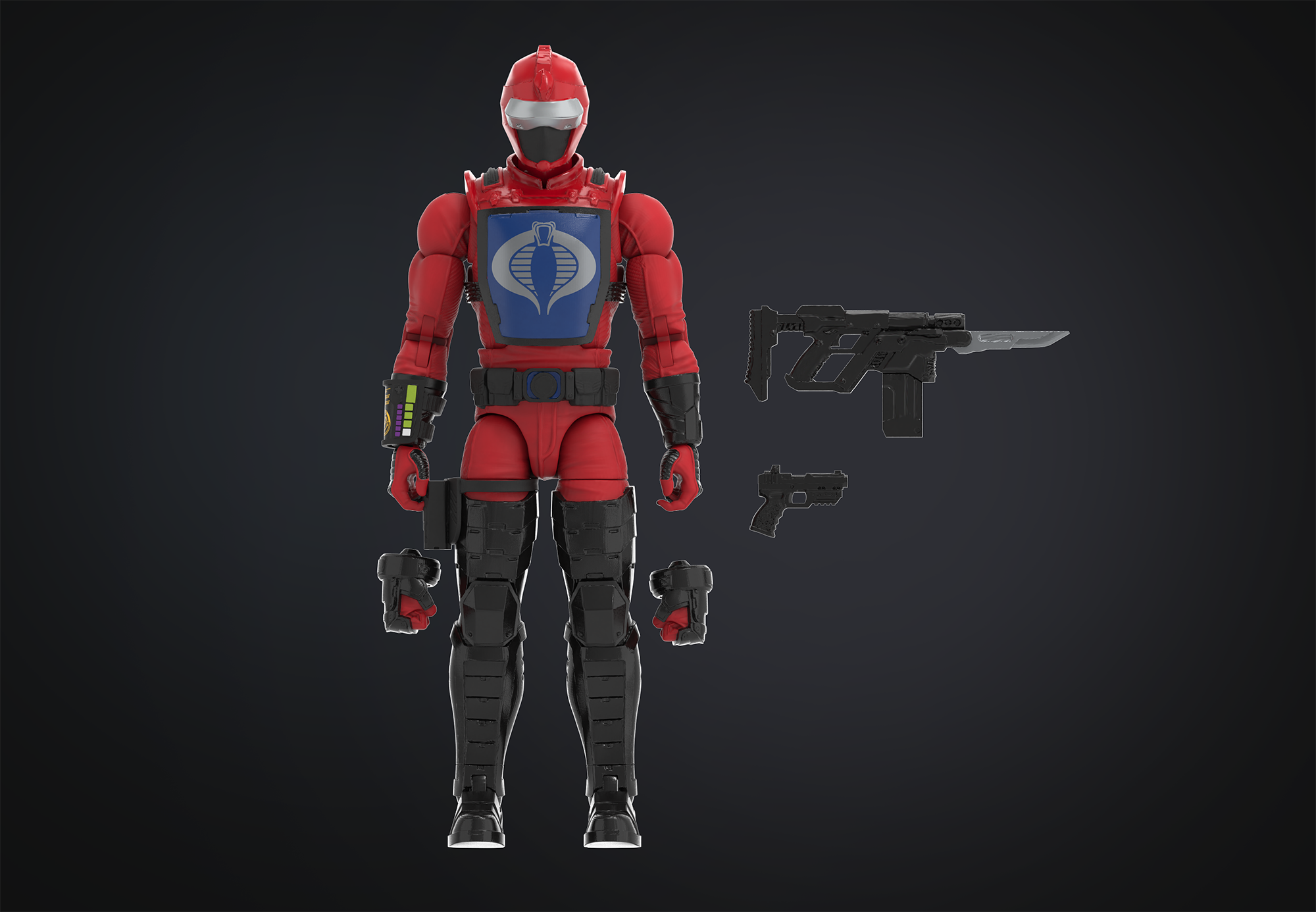 G.I. Joe Classified Series Cobra H.I.S.S. Driver 6-Inch Scale Action Figure
What H.I.S.S. would be complete without its Driver? This G.I. Joe Classified Series figure included in the base offering comes ready for action, with multiple points of articulation for high poseability along with 4 weapon accessories. It comes individually boxed with its own artwork and number in the G.I. Joe Classified Series sequence, and will only be available through this HasLab offering. Anyone like me who cannot abide incompleteness in their collections should be certain to back this campaign to ensure no glaring omissions on their shelves.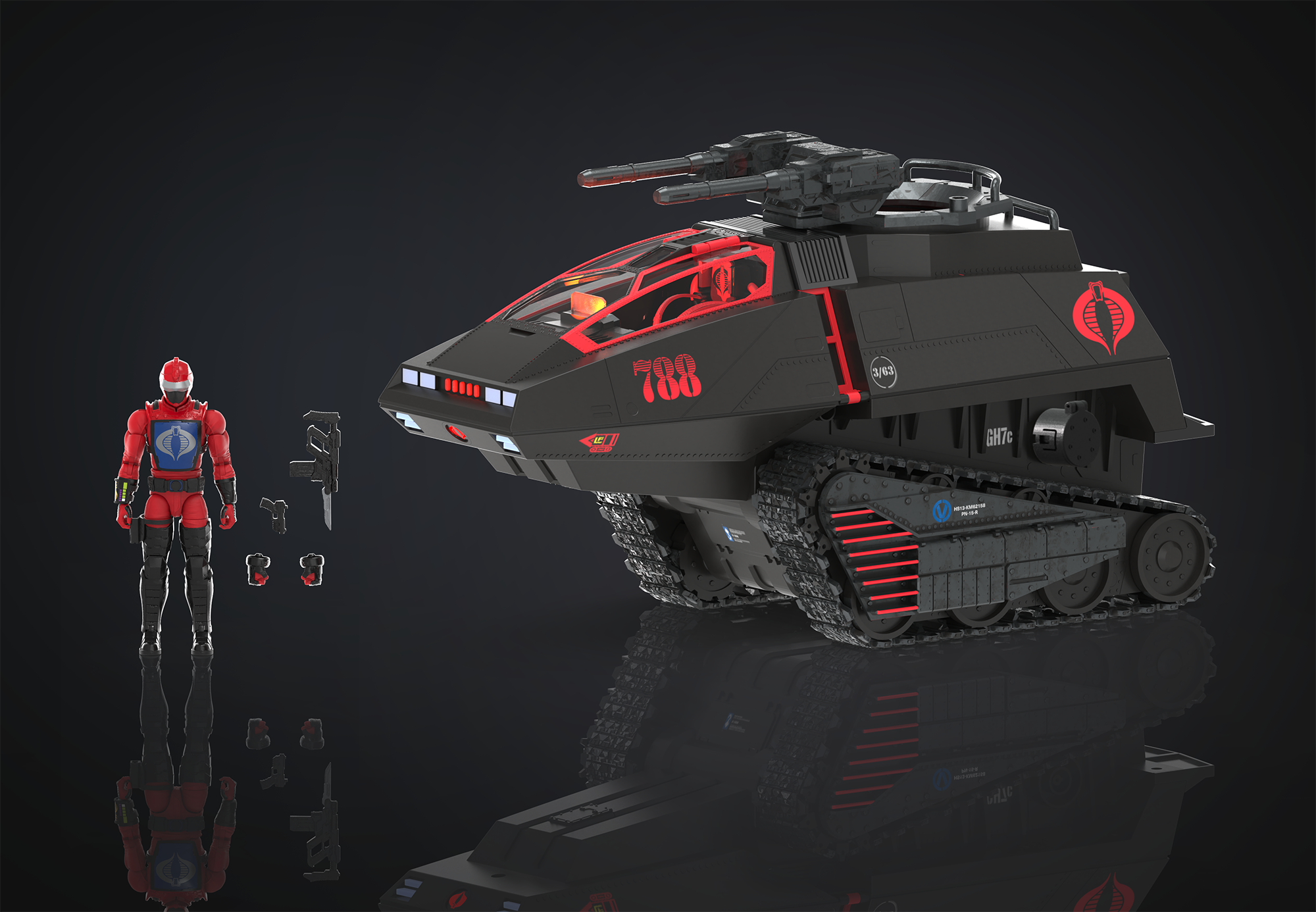 Multiple Classified Stretch Goal Unlocks
Beyond this mechanical marvel I have developed, Cobra Commander has tasked me with implementing several potential enhancements to the base offering of the G.I Joe Classified Series H.I.S.S. vehicle. Scrap Iron and I are devising upgrades to expand its destructive capabilities. But that is all dependent upon the whims of our financial backers. Should enough investors fund the campaign, we shall reveal those Classified offerings in due time.

8,000 backers to fully fund the campaign
10,000 backers to unlock Cobra H.I.S.S. Classified Upgrade #1
12,000 backers to unlock Cobra H.I.S.S. Classified Upgrade #2
14,000 backers to unlock Cobra H.I.S.S. Classified Upgrade #3
16,000 backers to unlock Cobra H.I.S.S. Classified Upgrade #4